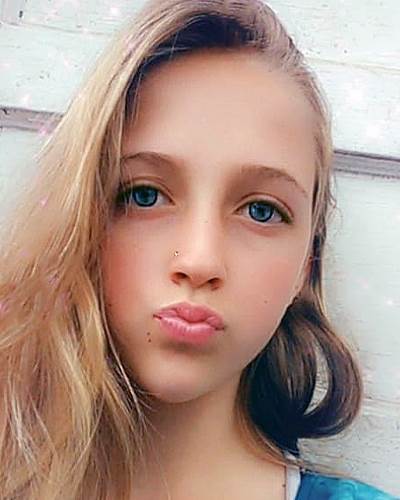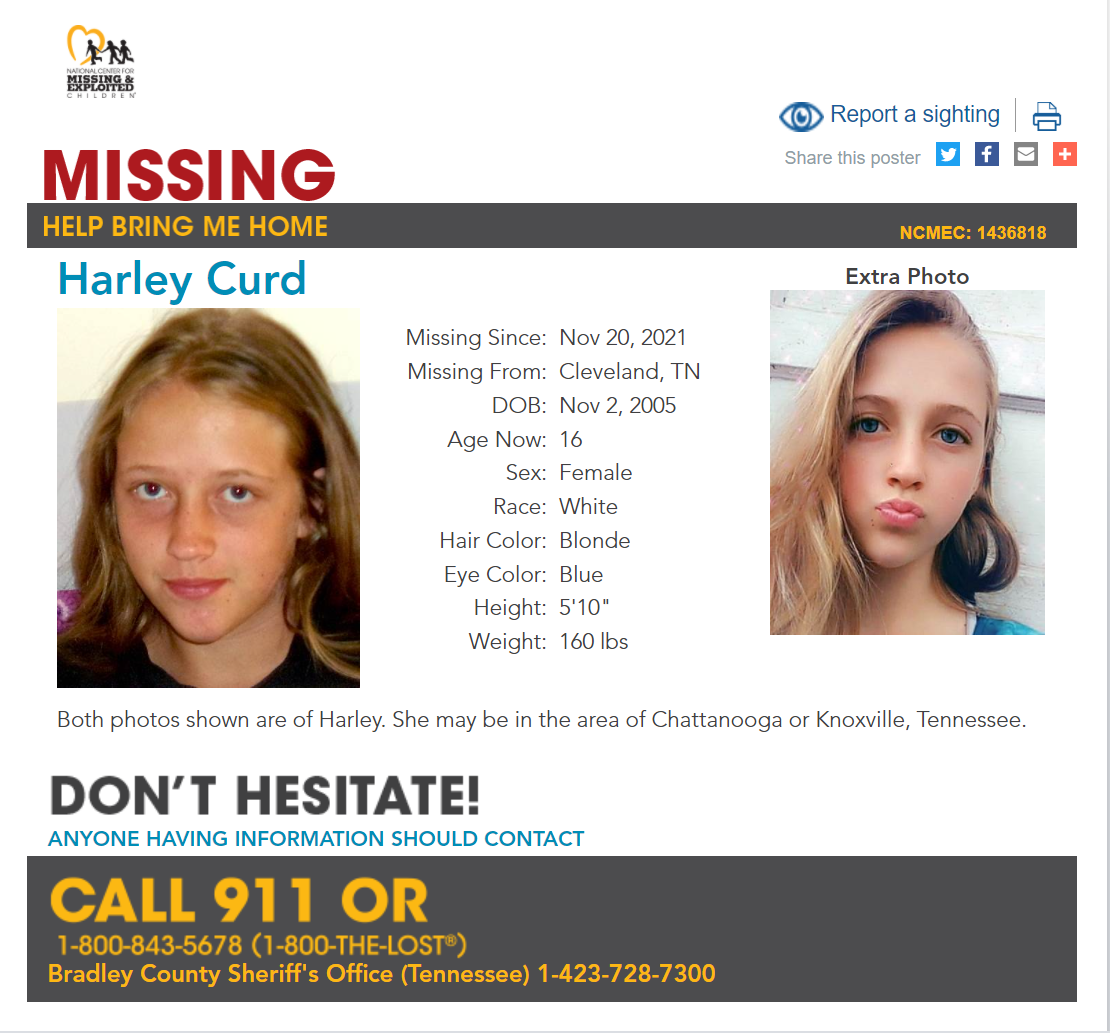 URGENT | 16YO MISSING CLEVELAND, TN GIRL |
Harley Curd, a 16-year-old girl, was last seen on November 20, 2021, in Cleveland, Tennessee. Both photos shown are of Harley. She may be in the area of Chattanooga or Knoxville, Tennessee.
Harley has blonde hair and blue eyes. She is 5'10" tall and weighs 160 pounds.
If anyone has information about Harley, call: 911 or 1-800-THE-LOST or the Bradley County Sheriff's Office TN at 1-423-728-7300.
#TNMissingKid #USISB #SavingLostKids #SharingIsCaring #MissingKids #Tennessee #ClevelandTN #KnoxvilleTN #Chattanooga #ChattanoogaTN
@Cleveland TN Police Department
@Bradley County Sheriff's Office TN
@TBInvestigation
@TennesseeHighwayPatrol
4
@The Cleveland Daily Banner
@Tennessean
@ClevelandTNLocal
@BradleyCountyNews
@BradleyCountySchools
@MacKidCleveland
@YMCAClevelandTN
7
@Mix 104.1 WCLE
@Alive 96.9
2
@Cleveland Tennessee
@South Cleveland Tennessee
@Georgetown Tennessee
@Baugh Spring Tennessee
@Hopewell Tennessee
@Wildwood Lake Tennessee
@Union Tennessee
@Whisperwood Tennessee
@Climer Tennessee
@Charleston Tennessee
10
@Chattanooga Tennessee
@Red Bank Tennessee
@East Ridge Tennessee
@Collegedale Tennessee
@Walden Tennessee
@Middle Valley Tennessee
@Soddy-Daisy Tennessee
@McDonald Tennessee
@Ooltewah Tennessee
@Ridgeside Tennessee
@Middle Valley Tennessee
@East Brainerd Tennessee
@Rossville Georgia
@White Oak Georgia
@Wildwood Georgia
@Fort Oglethorpe Georgia
@Apison Tennessee
@Falling Water Tennessee
@Signal Mountain Tennessee
@Ooltewah Tennessee
18
@Knoxville Tennessee
Please follow and like us: