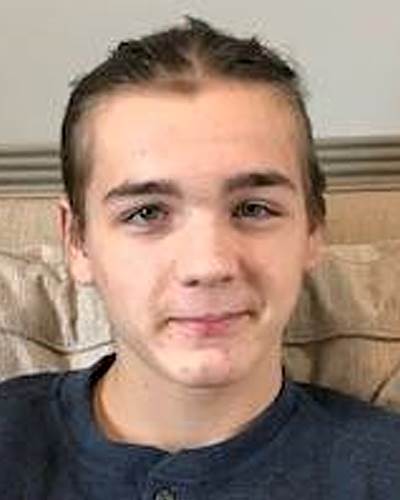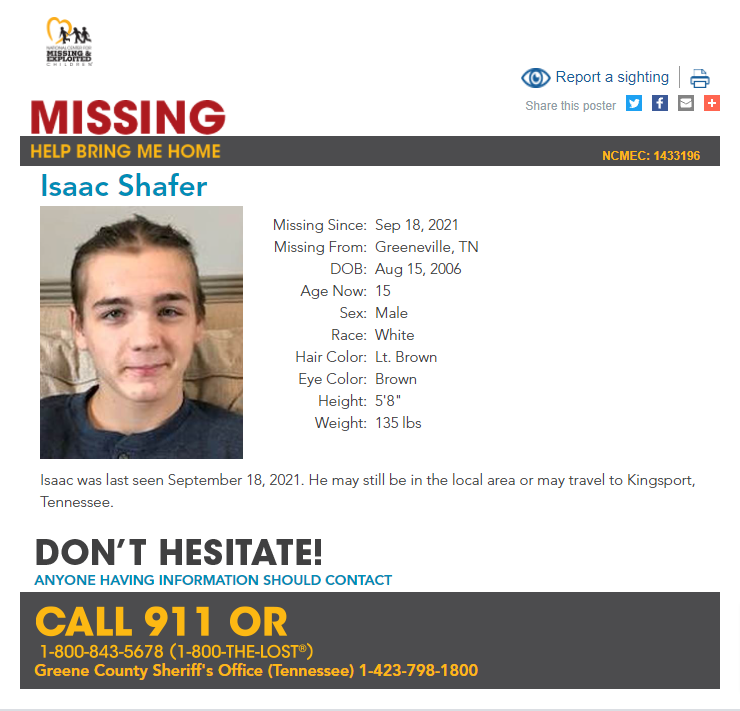 URGENT | 15YO MISSING GREENEVILLE, TN BOY |
Isaac Shafer was last seen September 18, 2021, in Greeneville, Tennessee. He has light brown hair and brown eyes. Isaac is 5'8" tall and weighs 135 pounds.
If anyone has information about Isaac, call: 911 or 1-800-THE-LOST or the Greene County Sheriff's Office at 1-423-798-1800.
#TNMissingKid #USISB #SavingLostKids #SharingIsCaring #MissingKids #Tennessee #GreenevilleTN
@Greeneville TN Police Department
@Greene County TN Sheriff's Department
@Johnson City POLICE
@Washington County Sheriff Department TN
@TBInvestigation
@TennesseeHighwayPatrol
@Johnson City Press
@Tennessean
@Johnson City TN Local News Break
@Johnson City Tennessee
@The Greeneville Sun
@Town of Greeneville
@Greeneville Tennessee
@Radio Greeneville
@Midway Tennessee
@Cross Anchor Tennessee
@Ducktown Tennessee
@Limestone Tennessee
@AftonTennessee
@TusculumTennessee
@Alexander MillTennessee
@WoodlawnTennessee
@WhitesandTennessee
@Houston ValleyTennessee
@MohawkTennessee
@BaileytonTennessee
@MosheimTennessee
@JearoldstownTennessee
@GraysburgTennessee
@ChuckeyTennessee
@Cedar HillTennessee
@BethanyTennessee
@RheatownTennessee
@Fall BranchTennessee
@Bulls GapTennessee
@WittTennessee
@White PlainsTennessee
@MorristownTennessee
@CityOfMorristown
@RussellvilleTennessee
@ParrottsvilleTennessee
40
Please follow and like us: