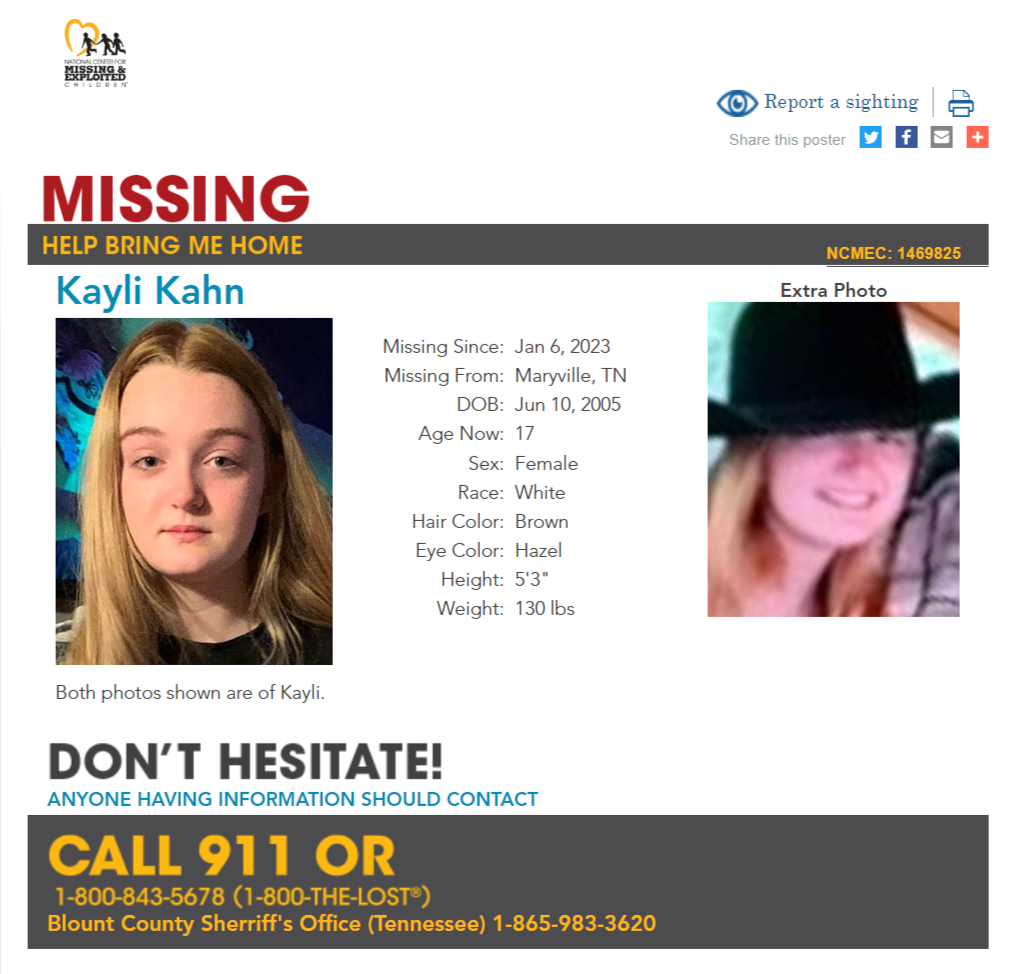 URGENT 🏃🏻‍♀️| 17YO MISSING MARYVILLE, TN GIRL |🏃🏻‍♀️
Kayli Kahn, a 17-year-old girl, was last seen on January 6, 2023, in Maryville, Tennessee. Both photos shown are of Kayli. She has brown hair and hazel eyes. She is 5'3" tall and weighs 130 pounds.
If anyone has information about Kayli or her whereabouts, please call: 911 or 1-800-THE-LOST or the Blount County Sherriff's Office TN at 1-865-983-3620.
#Missing #HelpFindHer #PleaseShare #TNMissingKid #USISB #SavingLostKids #MissingChildAlert #MissingKids #Tennessee #Maryville #NCMC1469825  #findKayliKahn 
Kayli Kahn
NCMC   1469825
Missing Since   Jan 6, 2023
Missing From Maryville, TN
DOB  Jun 10, 2005
Age Now   17
Sex   Female
Race   White
Hair Color   Brown
Eye Color   Hazel
Height   5'3″
Weight   130 lbs
Both photos shown are of Kayli.
Blount County Sherriff's Office (Tennessee) 1-865-983-3620
FileName:  Kayli Kahn – 2023-01-06 – Maryville TN – East TN
Create Date:  1/12/2023 1:31 PM  by  Brenda Fleming
Date Doc Last Updated:  1/13/2023 1:32 AM  by  Brenda Fleming
Date Last Reviewed Missing Poster:  1/12/2023 – date setup this document – bf
Please follow and like us: