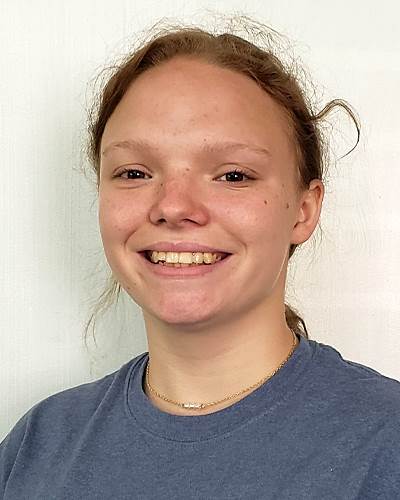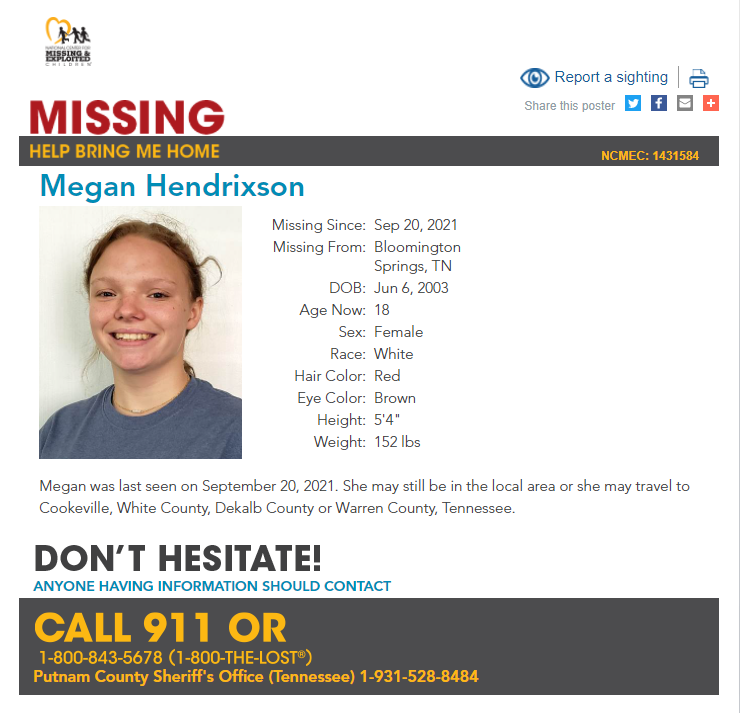 Megan Hendrixson – 2021-09-20 – Bloomington Springs TN – Middle TN
URGENT | 18YO MISSING BLOOMINGTON SPRINGS, TN GIRL |
Megan Hendrixson was last seen September 20, 2021, in Bloomington Springs, Tennessee. She has red hair and brown eyes. Megan is 5'4" tall and weighs 152 pounds.
Megan may still be in the local area, or she may travel to Cookeville, White County, Dekalb County or Warren County, Tennessee.
If anyone has information about Megan, call: 911 or 1-800-THE-LOST or the Putnam County Sheriff's Office at 1-931-528-8484.
#TNMissingKid #USISB #SavingLostKids #SharingIsCaring #MissingKids #Tennessee #BloomingtonSpringsTN #CookevilleTN #WhiteCountyTN #DekalbCountyTN #WarrenCountyTN #PutnamCountyTN
@WCTETV
@PutnamSheriffTN
@CookevillePolice
@TBInvestigation
@TennesseeHighwayPatrol
@MontereyPD
@Baxter Police Department-TN
@AlgoodPolice
@Herald-Citizen
@Tennessean
@Upper Cumberland Reporter
@Bloomington Springs Tennessee
@PutnamCountyLibrary
@pcsstn
@NewsTalk941
@KISSFM985
@1069KicksCountry
@Rock937
@Buffalo Valley Tennessee
@Burton Tennessee
@Cookeville Tennessee
@Silver Point Tennessee
@Baxter Tennessee
@Algood Tennessee
@Algood Tennessee
@Monterey Tennessee
@Woodland Estates Tennessee
@Nameless Tennessee
@Center Grove Tennessee
@Granville Tennessee
@Chestnut Mound Tennessee
@Lancaster Tennessee
@Rickman Tennessee
@Cookeville Tennessee
@White County Tennessee
@Dekalb County Tennessee
@Warren County Tennessee
Please follow and like us: